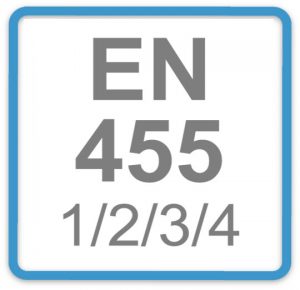 Many business owners, especially in the care sector, are consistently looking at the price they pay for a box of vinyl gloves.
Often whilst the price per box may look competitive, many are unaware that the glove may only be meeting EN455 Part 1.
Therefore, staff could be disposing of gloves that may have holes or be ripped.
At Newline we only supply tested, quality products which our customers can use with confidence.
Our gloves are AQL 1.5 certified and pass EN455 parts:
EN455 Part 1: 2002 - This standard describes a method in which randomly sampled gloves are subjected to a water tightness test (ability to hold 1000ml of water without leaking). The number of gloves to be tested are based on the batch size of the gloves manufactured as stated in the International Standard ISO 2859-1 i.e. if the laboratory is using a multiple sampling plan then the number of gloves required for testing will vary between 300-600 for batch sizes up to 500,000+ gloves. For compliance to the BS EN 455-1, the accepted quality level shall be 1.5%.(Basic test on holes).
EN455 Part 2: 2011 - This standard describes the testing requirements for determination of physical properties, including break strength, before and after accelerated ageing, of medical gloves for single use, surgical gloves, examination/procedure gloves, long-cuff medical gloves, and seemed/welded gloves. The recent amendment to the standard, BS EN 455-2:2009+A1:2011, has reduced the FAB (force at break requirement) for examination gloves from 9N to 6N, and for surgical gloves from 12N to 9N. The UK forward to this version of the standard states: "This does not prevent Purchasers who wish to do so continuing to specify higher values in contract negotiations."(Guards against ripping that leads to wastage).
EN455 Part 3: 2006 - This standard gives methods for protein testing (extractable latex proteins have an important role in latex allergy), powder levels, and endotoxin levels. (Guards against allergies)
Our EN455 certified gloves can be used for:
Medical Use
General Domestic Use
Light Duty Cleaning
Food Handling & Processing